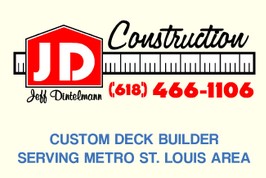 Coming Soon!
Whether you want a deck for lounging at your pool parties or an outdoor dining room for Dad's famous grilled burgers – J D Construction has you covered. Relaxing with family and friends is a breeze in your outdoor space that's perfect for entertaining. Your new deck can be filled with excitement and parties one day, and still be a cozy spot to curl up with a glass of wine while the sun sinks into the horizon the next evening.
Recapture the closeness of yesterday with some rocking chairs and iced tea for warm conversation with friends. Revel in the only space you have that is redecorating itself each season for your pleasure.
Now you can have the deck of your dreams – right outside the door, ready to transport you from the worries of the day to the freedom of nature. A deck is not wood boards and metal fasteners, it's the space where you finally get to know your teenager, fall in love with your spouse all over again and introduce your toddler to the sounds of nature. Capture your piece of nature's tranquility.
Decks are a great way to extend your living space at a fraction of the cost of additional interior space.
At JD Construction, we will help you create the deck design of your dreams, no matter what your needs and budget are. We are able to offer a wide range of materials to fit your specific needs. Anything from carefree composite to beautifully sustainable cedar can be used to accommodate your wishes.